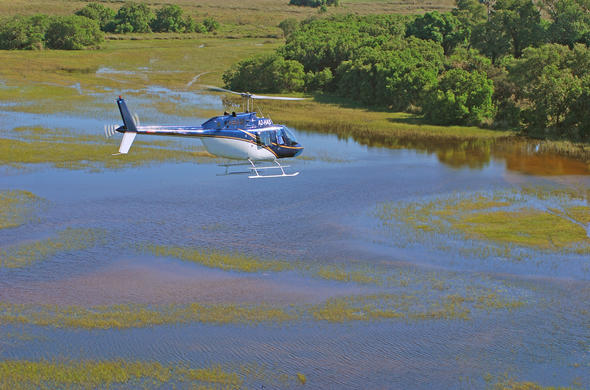 Moremi Game Reserve is considered the most beautiful park in Africa but even in this beauty is a time of suffering for the wildlife in the area, and yet at the same time new growth indicates a time of plenty to come
By Leigh Kemp
Having spent a great deal of time in Moremi Game Reserve it is difficult to argue with the sentiments of the many who profess to the unrivalled natural beauty of Moremi but on a recent trip I saw the
harsher side to this pristine wilderness
. It was the late dry season and the water in the Okavango was evaporating rapidly in the heat and the vegetation was withering. But even with the heat Moremi provided special moments.
Hell in Paradise
The heat was oppressive, breath-sucking oppressive, and with the limited shade not providing much succour,
all life seemed to be in slow motion
. The earth was dry, cleaned of its cover of grass and the loose layers of soil had long gone, having been brushed away by the wind. An imagined breeze only washed the heat further into the soul.But as the afternoon wore on there was a subtle change - the heat was still stifling but the air was scented by something inexplicable. It was more of a sense in the soul than a scent, an understanding of the moment.What had happened was the first indication of a change in the season of heat, an indication of the
continuation of the cycles of the wilderness
. All wild creatures sense the change in the understanding of the coming keeping of a promise.
Signs of new life
There is an edge to the wilderness at the end of the dry season. It is a time of
intense heat and the ground is blazing hot
, animals are gaunt from exhaustion and the trees are shredded and ripped into stunted pieces of wood from the desperate need for sustenance.But from some secret space the signs of life begin to appear - new shoots seem an aberration in the seeming devastation. Colours of rich greens and russet reds overwhelm the senses in their audacity to mock the time.It was a time of heat and suffering but as it has done since the beginning of time the
wilderness was completing the cycle of life
, by showing the new growth.
Visiting Moremi
It seems somewhat strange talking of a time of suffering in a place referred to as the
most beautiful and abundant in Africa
but such is the wilderness that even in the harshest time there will always be beauty to enjoy and Moremi is certainly a place to appreciate all year round.
Experience Moremi with this exciting 7 day safari package
Best Moremi Safaris

Game viewing and bird watching by mokoro, or boat is unbeatable, and compliments game drives and flights over the Delta:
Classic Okavango & Moremi Fly-in
Deluxe Moremi to Chobe Self-Drive
Savuti, Moremi & Okavango Fly-in
Journey Through Botswana Series

Botswana Journey
Chobe River Journey
Kalahari Journey
Maun Journey
Moremi Journey
Okavango Delta Journey
Savuti & Linyanti Journey