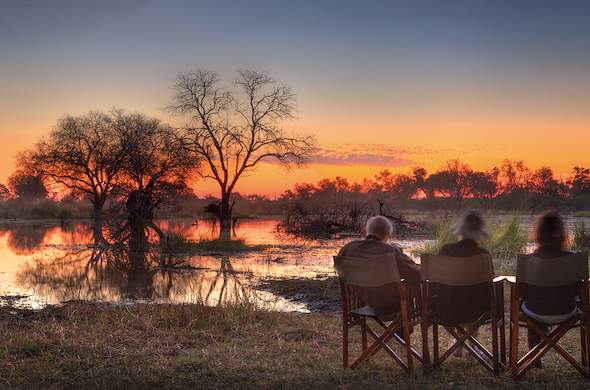 © Sunset at Khwai River Lodge
The Khwai River, the northern-most overflow of the Okavango Delta, pushes water far into the dry lands of Botswana during the dry season, attracting a multitude of wildlife and is known as one of the most dramatic wildlife experiences in the country.
Khwai Game Drive
'The waters of the Okavango have pushed far up the Khwai channel, indicating a high flood season in the delta and this in turn has attracted many animals to the river. The scene in front of us sums up what Khwai is about -
lions on a kill
, a herd of elephant splashing in the water and five other species of animals going about their day'.
Highlights of Khwai Game Drive
Dry season concentration of wildlife along the channel
Diversity in vegetation from open grass plains to riverine forest
Excellent birding during the summer months
Very strong predator population including lion, leopard and wild dog
Leopard in the Morning
The sun was peeping over the horizon and I was about to explain the route we were going to take when I saw a cat-like shape crossing the road up ahead.
It was a male leopard
and it was scent marking its territory by spraying a scent onto selected targets. This scent serves as a warning to any rival males that may enter the territory. We followed the leopard for more than half an hour along the road before he disappeared from view.
A Season of Elephants
A breeding herd of elephants was crossing the road up ahead so I stopped the vehicle, but not before a male mock charged the car. Young
males generally display this behaviour
to try and establish dominance. It eventually moved off. When most of the herd had crossed, I moved forward until we were in line with the herd and switched off the car engine.They seemed rather calm except for
one old cow with a broken tusk.
She lifted her head, turned toward us, and charged. This one was for real. I started up the engine and managed to get ahead of her. She chased after the car for about 100m then gave up.Some of the guests were standing up, and there was definite knocking of body parts as I drove off. I have to admit to thinking at the time that
the herd was pretty calm
, but this charge came without provocation.
After the incident I stopped the vehicle and we all got out for a breather before heading along the river back to camp. A little further on there was a breeding herd of elephants which seemed a bit upset by our presence, but did not do anything untoward except for one young male that mock charged the car.I decided to sit and wait for the herd to move off but after about half an hour they were still on side of road so I decided to ease my way passed. Except for one young bull which charged the car from across the river the others seemed okay but as I rounded the corner I saw the floodplain full of elephant it was getting late so I decided to move past, with a couple of detours.

The last two elephant were in the road and did a bit of the flapping and stomping bit but eventually moved off. The sundowners that evening tasted particularly sweet as i pondered the Khwai experience.
Leigh Kemp

Find out about Botswana Self-drive Safari Packages