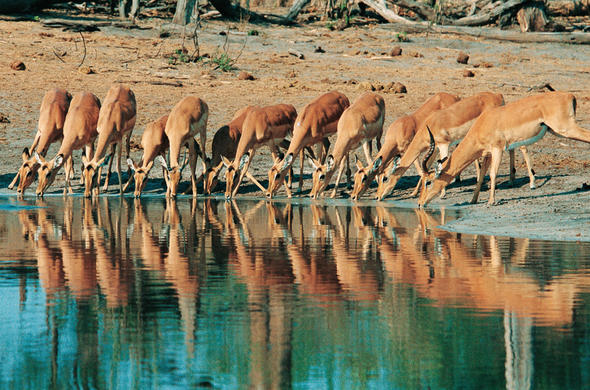 Waterholes are the lifeline for animals in the wilderness areas of Africa during the dry season, but they may also be death traps when they dry up.
Waterholes of the dry season
Dry waterholes have always held a fascination for me. I do not look at them with a view to the next rain season but as a page of a book telling of what has happened during the last days before they dried up.
At a long-dry water-hole
A script is inscribed
In an ancient lyrics
Dramas etched in mud
In bleached bones and sun caked dung
A silent testimony
The skull of the season
There can be no more dramatic indication of the harsh realities of the wilderness during the dry season than a skull of a previous drama littering the bare earth, or embraced by the new grass after the rains.
There is a skull lying in the grass
The green grass of the new season
The skull was there before the new grass grew
A victim of seasons past
The grass will grow and fade
But the skull will remain
No longer a victim but a part
Leigh Kemp