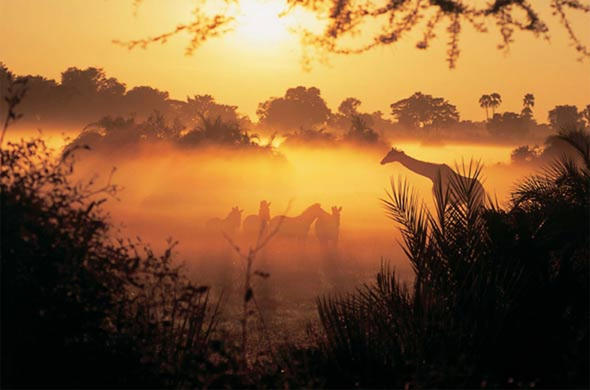 © Sunset in the Delta. Kaporota
The wilderness of Africa is a place of drama, where anything can happen at any moment, and most visitors come to experience the interaction of the larger mammals but there is a very special side to the wilderness that is often missed.
Leopard in the morning
The impala were snorting and staring intently at a patch of grass on the edge of the tree line. I searched the place through my binoculars but could not see anything. 'What do you think it is?'
'Not too sure as yet but it could be a leopard.'
We waited, the wilderness holding us captive, but the impala began to relax and the excitement of the specific moment slowly melted. The moment passed.
Wilderness afternoon
'It is hot, the light is sharp, shimmering the Mopane leaves in glistening colours of green. A scarlet dragonfly perches two meters away, brilliant in its sun-enhanced colour. Perfection!
Later:
I must have fallen asleep for something has happened - the dragon-fly has gone. No, that's not it. It's the light. The heat has gone from the air, and with it the heat waves, the light now softer in yellow-green touches of late afternoon, and a gentle breeze brushes past in a comforting cool of early winter. I missed the change, I was asleep.'
Of an afternoon in the wilderness there will be a change, subtle but dramatic. The light will lose its harshness and the heat will linger but soften into a comfort zone.
Leigh Kemp