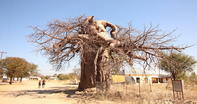 © Ann Gadd
Kasane is a town in Botswana, located where the Four Corners of Africa meet - Zimbabwe, Zambia, Namibia and Botswana. Kasane is situated in the north-eastern section of Botswana and can be accessed by road and air transfers.
Kasane's location is in a riverine woodland and where two major African rivers - the Zambezi and Chobe River - meet. Kasane can serve as a destination for the ultimate African safari for its unique location. The renowned Chobe National Park is scenic excursion away, and Kasane acts as the jumping-off point for Victoria Falls excursions.
Kasane accommodation is offered at luxury safari lodges in Botswana. Activities in Kasane includes game drives, sightseeing, cultural tours and river cruises. See below for Botswana safari tours in Kasane.
This 10-day self drive Botswana safari tour from Chobe to Okavango Delta via Victoria Falls, is ideal for guests who want to experience Botswana and Zimbabwe...
more
There are as many reasons to travel to Botswana as there are reasons to travel on safari in Africa such is the diversity of landscapes and wildlife in...
more