Fish Eagle | Botswana Wildlife Guide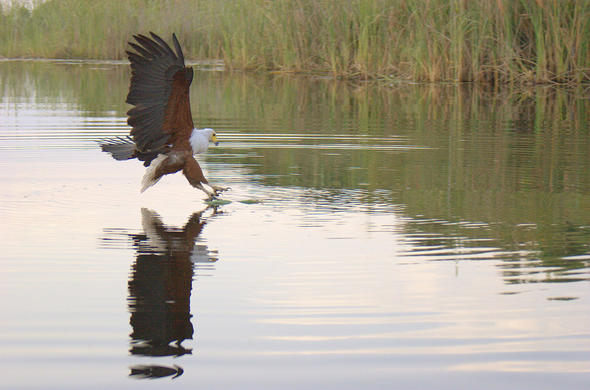 African Fish Eagle [Haliaeetus vocifer]
Best places to see Fish Eagle in Botswana
Along all waterways of Botswana especially in Chobe National Park, Linyanti and Okavango Delta.
Observations
The Fish Eagle is the epitome of African pride and grandeur for many people, with its piercing call carrying across the wilderness. The call is also the symbolic call in Africa for many. Both male and female birds call, with the male having a higher pitch than the female.
The African Fish Eagle, the national bird of Botswana's neighbours Zambia and Zimbabwe, is easily the most sought after bird sighting for safari-goers and fortunately it is commonly seen along waterways, perching on branches overlooking the water.Fish Eagles feed on fish they catch by swooping down to the water surface from their perches in high trees. If they miss the catch they will return to the trees to seek out more fish on the surface. When catching a fish they will return to a perch and feed but should the fish be too heavy to pull out the water they will pull it to shore using their powerful wings to generate power.Although feeding predominantly on fish the eagles will also take carrion and steal the prey of Herons and other birds. Personal observations of Fish Eagles show an eagle swooping down and killing a Guinea fowl on the ground. After been swamped by the rest of the flock the Fish Eagle left the kill and flew off.